Bar Raval is a 21st-century response to Spanish Art Nouveau design. The brainchild of celebrated Canadian chef Grant van Gameren and wunderkind mixologists Mike Webster and Robin Goodfellow, Raval introduces Toronto to the "pintxo" bar—a tapas-style bar that is a cornerstone of social and gastronomic culture in northern Spain.
The client charged the design team with executing an ambitious task: "create an art piece"—a space that would become an enduring Toronto institution.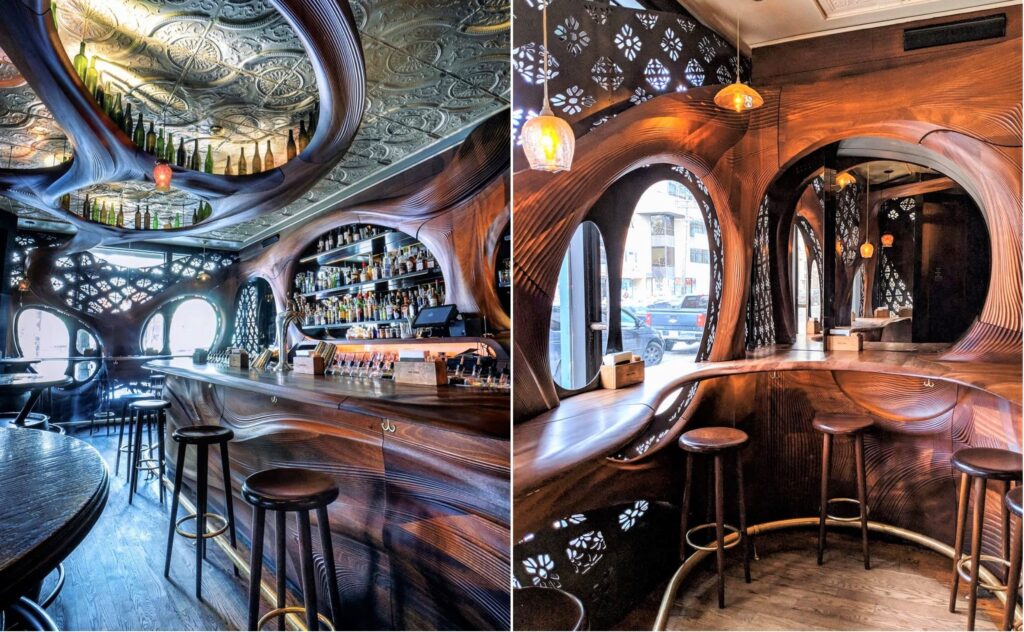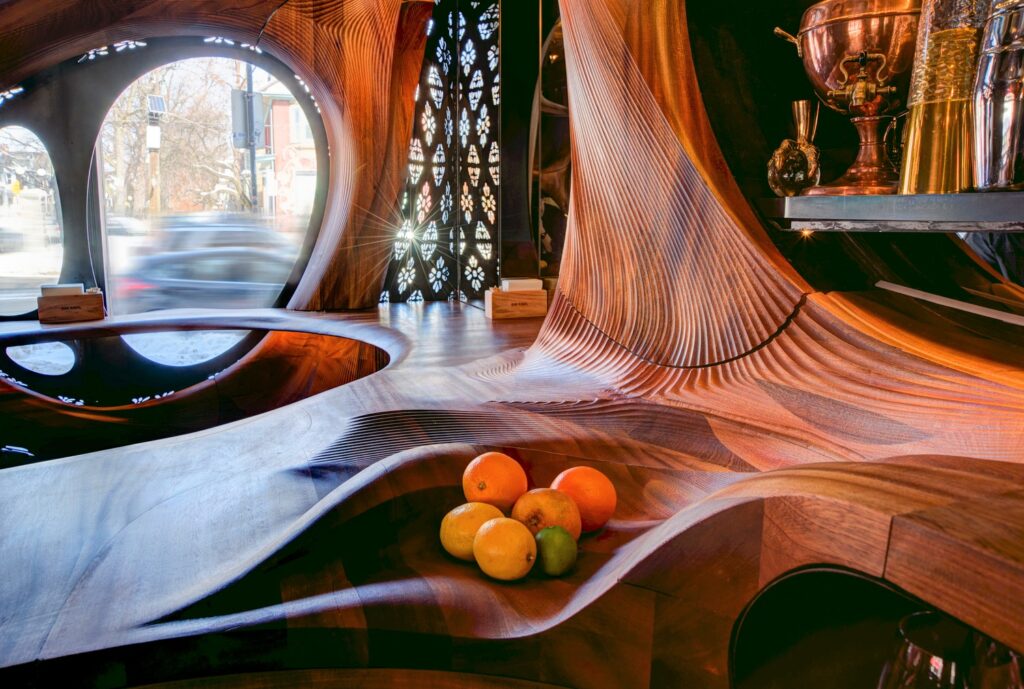 A design concept that transform space into an almost sentient architectural sculpture has been conceived. Carefully hewn from what look like unbroken Mobius strips of sinuous mahogany, the interior design is fundamentally corporeal. In a stand-up-only environment, the rippled—and rippling—surfaces encourage patrons to get comfortable, lean into their soft edges, and become a part of the woodwork. Raval's molten quality fosters fluid circulation and close encounters, honouring the spirit of its Spanish pintxo counterparts. Its sculptural aesthetic is also intended to mirror muscle tissue. In fact, it pays direct homage to the tattooed physicality of the three owners.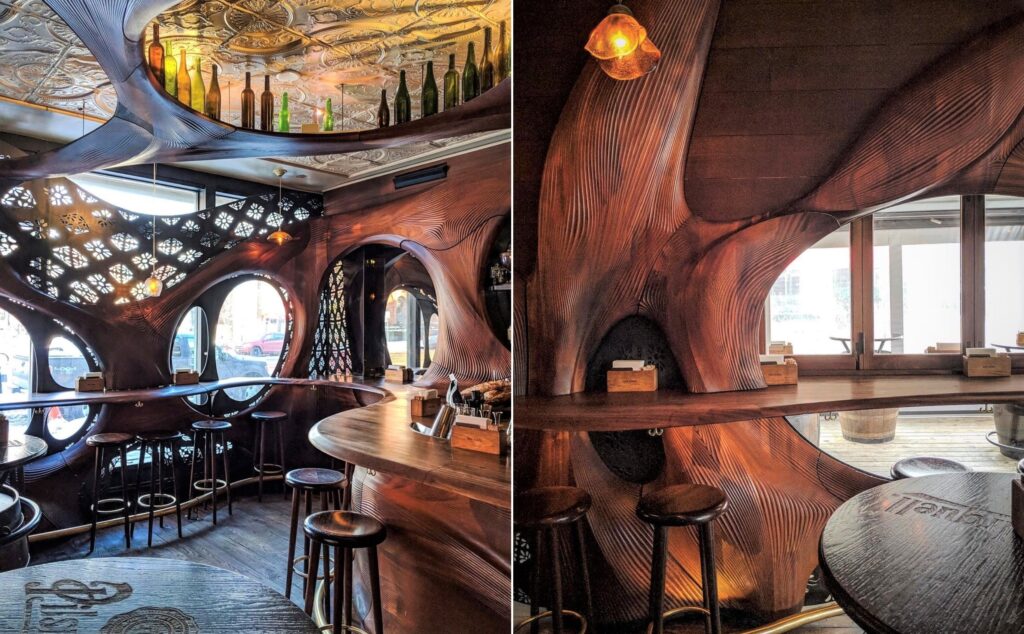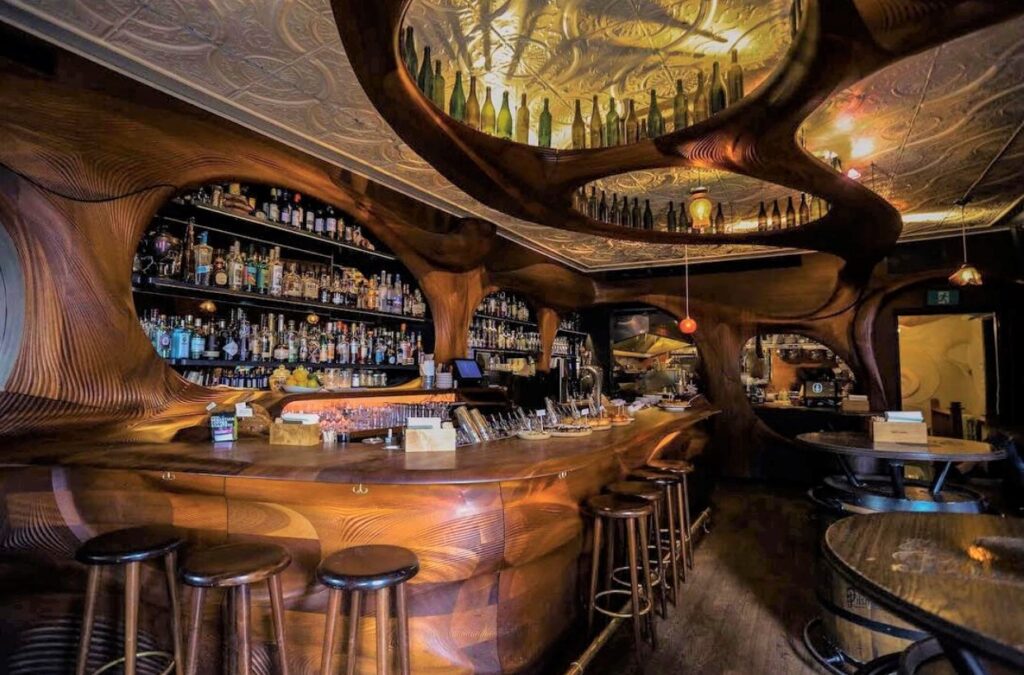 The smooth flow of the final product belies the rigorous research and development required to achieve the vision. Eventually, efforts with manufacturers and software engineers were synchronized to rewrite software patches that would allow customization of toolpaths to perform sculptural engravings on complex 3D surfaces. The result: 9 km of serpentine engravings on 75 perfectly aligned wooden panels. The soft curves of Bar Raval foster intimacy, fluidity and community. A series of 3D "tattooed arts" envelop customers in a warm mahogany embrace, and their rippled surfaces encourage customers to bend over and become part of the woodwork.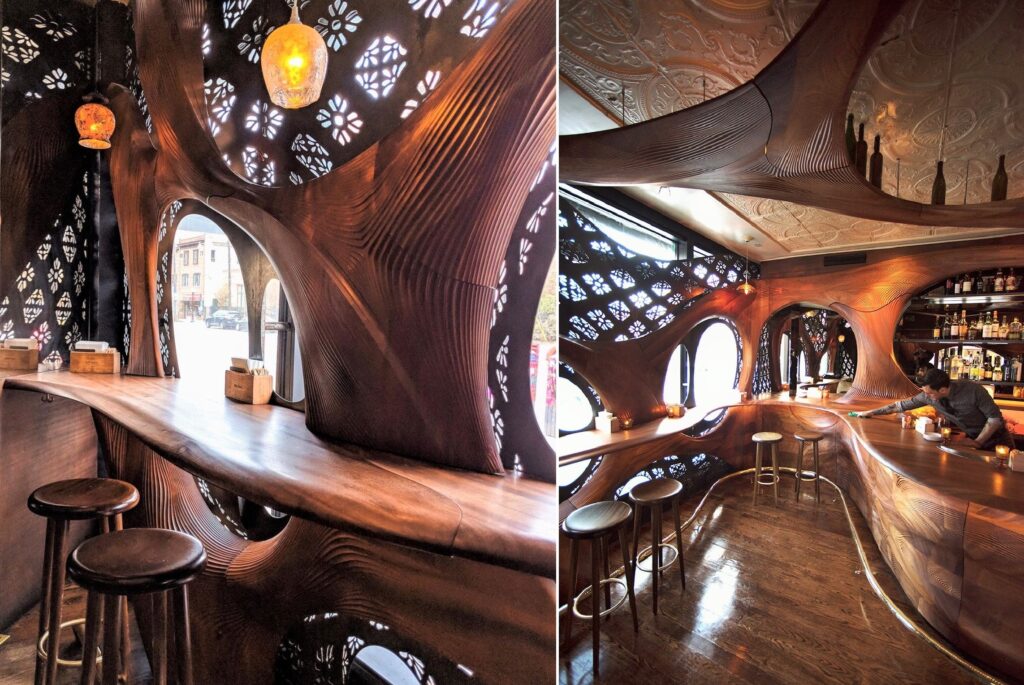 While Raval is introducing a new culinary genre to Toronto, its other chief objective is to elevate mixology to the heights of a culinary art.
The functional aspects of the classic bar were then re-evaluated, reimagined as a stage for performance, interaction and amazement. Custom acoustics and a tailor made sound system were also developed.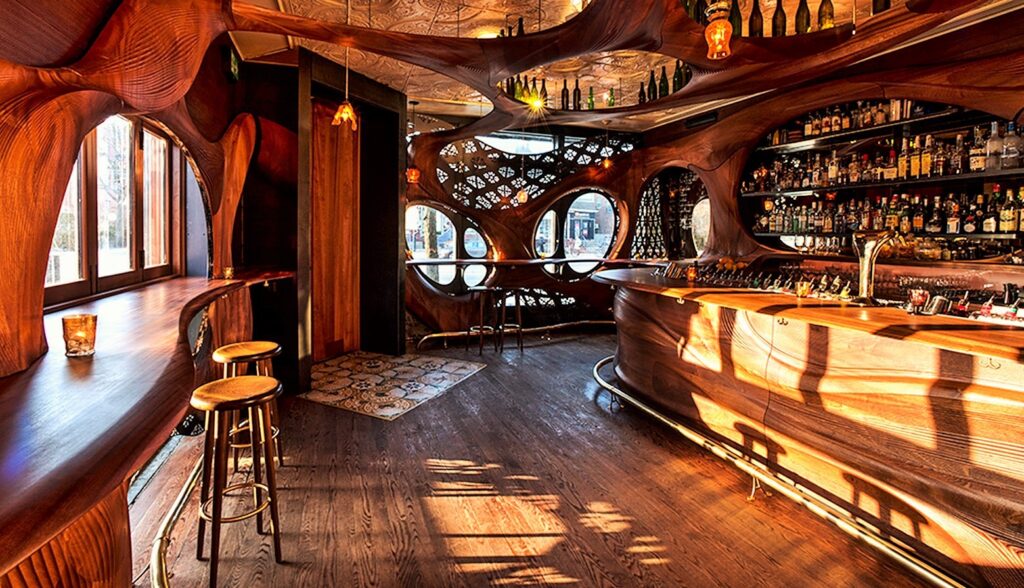 The result is a marvel. For those who have braved the daily lineups to get into the bar, they describe feeling as though they've exited Toronto and entered an entirely different world.
Architects and description: Partisans
Bar Raval
505 College St, Toronto, ON M6G 1A5, Canada
Phone: +1 647-344-8001